I am seriously so excited that It's time to finally post this recipe! About a month ago I signed up for a little competition called "Get Your Chef On," which is hosted by the
Awesome
Jen at
Four Marrs and One Venus
and Julie at
White Lights on Wednesday
! It's basically an Iron Chef-esque challenge where you have a mystery ingredient and you make something with said mystery ingredient! How fun, right?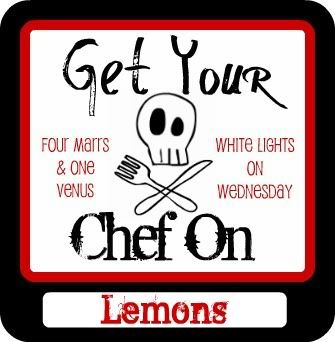 This is my first time ever entering and the mystery ingredient was "Lemons"! I was so excited to get started and I got to thinking right away. I knew I wanted to make something different, something that would "wow" them and make them think "Wow, Devi is the most AMAZING and talented girl ever!" So, what I came up with was a flavor combination that was out of this world. Something that no man or woman had ever dared to think of before... Something SO delicious, SO wonderful, that you can only truly appreciate it once you've tried it... Lemon & Pistachio. Yes, I went there. I went there and I'm so glad I did! I invented one of my all-time favorite cookies. It's sweet, sour, crunchy, lemony, pistachio-y and over-the-top delicious all at the same time. I strongly urge you to try this recipe if you want to be amazed. Plus, as an added bonus it's really beautiful. Buttery yellow with little hints of green throughout, topped with a pretty white drizzle.
I even took these little beauties in to share with some hungry teachers and their families. I was especially honored to receive an amazing compliment from one adorable little kindergartener who said "mmm I like how lemony they are. Mrs. McDonald is a magician in the kitchen!" My heart instantly melted, much like the tremendous amount of butter that is in these cookies.
1 cup salted butter (not too cold, but not completely room temperature either! I would leave it out of the fridge for about an hour)
4 tablespoons white sugar
4 tablespoons confectioners sugar
2 tsp fresh lemon zest
2 tbsp fresh lemon juice
2-1/2 cups flour
1/2 cup chopped pistachios
Glaze:
1 cup confectioners sugar
4 drops vanilla
2 tsp fresh lemon juice
1 tbsp sour cream or milk (I loved the sourness of the sour cream!)
Preheat oven to 325 degrees.
In a mixing bowl, cream together butter and sugars. Add lemon zest and lemon juice and mix to combine. Add pistachios and slowly mix in flour, 1/2 cup at a time.
On a floured surface, roll or press dough into a rectangle, about 1/2" thick. Using a pizza cutter, or a knife, cut into 3" sticks.
Place on an ungreased baking sheet, about 1" apart.
Bake in preheated oven for 18-20 minutes, or until the edges begin to turn golden. Remove cookies and allow them to cool.
While cookies are baking, combine confectioners sugar, vanilla, lemon juice, and sour cream (or milk).
Once cookies have cooled, use a spoon to drizzle the glaze over the top.
>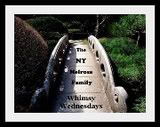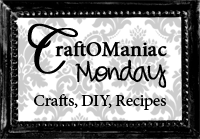 >