Life has been kind of stressful lately and you know what makes me feel okay?
Chocolate

.
Unfortunately, the husband doesn't care for chocolate desserts, so I very rarely make anything involving chocolate... but, one day I was so angry with life that I decided to be crazy and make something as chocolately as I possibly could. The whole time I was making this dessert, I felt like I was taking out some of my anger on these little chocolatey beauties. With every mix, every pour, every squeeze, I felt a little better and I came to the realization that baking is both therapeutic and delicious.
The great thing about this recipe is that when you are rushed or not in the mood to "whisk together flour and baking powder" and "cream together butter and sugar," you can simply dump all the ingredients in a bowl and mix them together and it comes out juuuuust fine! I love recipes like that.
Do you know what else was wonderful about this recipe? I used canned frosting... and guess what? I liked it. It was the perfect fudgy addition and I didn't have powdered sugar covering my counters. Powdered sugar covering your counters when you're in a bad mood is not so fun.
What's that thing they always say? Oh yeah...
Stressed spelled backwards is Desserts.
Marshmallow Filled Buttermilk Mocha Cupcakes Recipe: |Print Recipe|
2 cups flour
1 cup white sugar
1 cup brown sugar
3/4 cup hershey's cocoa powder
1/2 teaspoon salt
2 eggs (beaten)
1/2 cup vegetable oil
1 cup buttermilk
2 teaspoons baking soda
1 teaspoon baking powder
1 cup coffee (just use your leftover coffee from that morning!)
2-3 cups Small (Kraft) Jet Puffed Marshmallows
1 can (Duncan Hines) Chocolate Frosting
Preheat oven to 350 degrees.
Mix all ingrendients, except the frosting and marshmallows, in a large bowl. Mix until well combined and no lumps remain.
Fill 24 cupcake liners about 2/3 full and bake in preheated oven for 30-32 minutes.
Right when you remove cupcakes from the oven, poke a hole in the middle using a wooden spoon (or if you have one of those awesome little cupcake coring tools you can use that!)Rock the spoon back and fourth to clear out a little room in the center. Poke 5-6 small marshmallows right in the hole.
Allow cupcakes to cool, then pipe on a pretty little pile of fudgy frosting right in the center.
>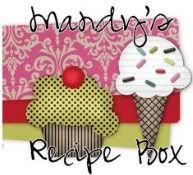 >