his shop has been compensated by Collective Bias, Inc. and its advertiser. All opinions are mine alone. #MySmoothie #CollectiveBias
More than likely you've noticed that I've become quite the smoothie lover. I just can't seem to get enough of them and the fact that you have endless flavor combinations at your fingers just makes them so much more appealing. Smoothies can also be as healthy or as indulgent as you want, depending on how careful you're trying to be. For me, I like to use smoothies as a healthy breakfast option because they get me pumped for the day and give me right about of protein and energy I need to battle my 3-year-old and keep my kitchen clean {The kitchen of a food blogger isn't usually a pretty sight.}
Today I have yet another delicious smoothie to share with you, and I just know you're going to love it. As long as you're a fan of cheesecake (who isn't?) and peanut butter (again, who isn't?) then you'll love it. It might even become your new best friend.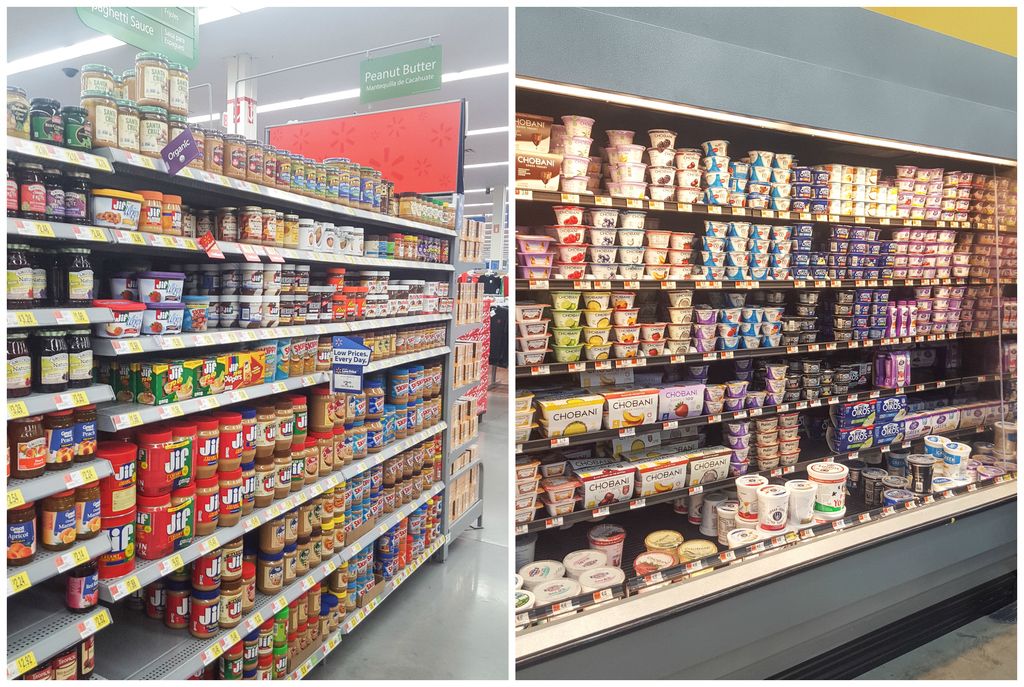 Any good smoothie begins with a trip to the store. Unless you just so happen to have every single ingredient you already need. Which you might... But, if you don't... A trip to Walmart can fix that.
Well, hello you smooth, creamy, luscious
Jif™ Creamy Peanut Butter
. And hello you creamy, sweet,
Dannon Vanilla Lowfat Yogurt
. I've grown up with Jif and we've become great pals over the years. Jif has been making my peanut butter sandwiches and cookies since I was a young girl and it continues to do so now even as a slightly older girl.
Let'
s not forget Dannon yogurt. Dannon yogurt has been with me all along, too. My parfaits and my post-school snacks wouldn't have been the same without it. Here's to you, Dannon yogurt!
So, basically... I'm about to share with you an extremely delicious smoothie recipe that you're going to want for breakfast, snack, lunch, second snack and dinner. Oh, and dessert. And midnight snack. The smoothie itself is bursting with peanut buttery cheesecake goodness, but the sweet & salty pretzel crumble on the top is my favorite part. It gives that crunch that I love so much with my smoothies. So, give it a try and let me know what you think!
Also... If you're in the market for a new blender or if you don't own one currently, check out the

Oster® Blend-N-Go® MyBlend® -
You can just fill, blend & go!
There's also currently an Ibotta offer available where you can
Get $1.50 cash back on the combination of Jif™ Peanut Powder and Oikos (Vanilla) Triple Zero Greek Yogurt
or
$1.50 back on the combination of Jif™ Creamy Peanut Butter and Dannon Vanilla Yogurt -- Who doesn't love to save money??
What's your favorite Smoothie flavor??
Peanut Butter Cheesecake Smoothie with
Sweet & Salty Pretzel Crumble:
Ingredients:
For the crumble:
1/2 cup broken up pretzels
1 tablespoon rolled oats
pinch of salt
1 teaspoon coconut oil
1 teaspoon honey
For the smoothie:
1/2 cup Danon Lowfat Vanilla Yogurt
2 tablespoons Jif Creamy Peanut Butter
1 tablespoon Sugar-free Cheesecake flavored pudding mix
2 ounces Neufchatel Cheese
*Extra peanut butter to decorate your cup, if desired
Directions:
Preheat oven to 275 degrees.
Heat coconut oil and honey in a small, microwave-safe bowl for 20-30 seconds or until completely melted. Mix in pretzels, oats and salt and spread on a parchment paper-lined baking sheet. Place in the oven for 10-15 minutes or until oats are golden brown. Remove from oven and allow to cool.
In your blender, place yogurt, peanut butter, almond milk, banana, vanilla, Cheesecake pudding mix, Neufchatel cheese, honey and ice cubes. Blend until smooth and no chunks remain.
Spread peanut butter on the inside of your cup or mason jar, if desired. Pour in your smoothie and top with a sprinkling of the pretzel crumble. Enjoy!
Makes 2 smoothies.