Disclosure: This post was sponsored by GOOD THiNS through their partnership with POPSUGAR Select. While I was compensated to write a post about GOOD THiNS,
all opinions are my own.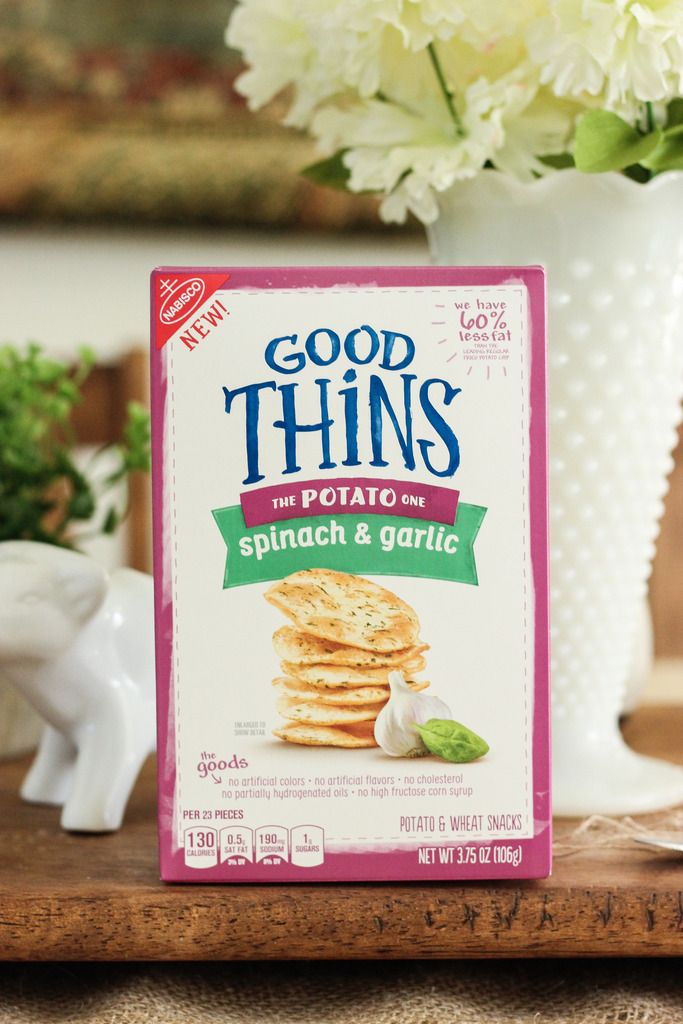 I've got to admit something to you, my dear, dear readers. Although this may not come as a surprise for those of you that have followed me for, well, let's be honest, more than a week. But, I am a snacker. I love creating delicious, wholesome meals for my family, but throughout the day there is nothing I enjoy more than a well-executed snack. The challenge I always find myself facing when at the grocery store is that while there is no shortage of snacks available to choose from, sometimes it's not so easy finding wholesome choices that are also delicious. Needless to say, I was pretty stoked (I don't think I've ever actually used that word before) to find these little crunchy, midday treats.
So, apparently GOOD THiNS are a brand new offering from Nabisco and are made with real ingredients. That means there are no artificial colors, no high-fructose corn syrup and no partially hydrogenated oils (yay!). I was super anxious to try this product because I've been a die-hard Wheat Thins fan since I was young. So, I was interested to see what this new offering would be like, and let me just say...
Yum! The first thing I noticed (and loved) was that these babies were super thin and super crisp. Which is definitely a plus for me. Some people like the chew, I like the crunch, and these provide a whole lot of that. I also noticed almost immediately that they seemed to almost be a chip-cracker hybrid and in a totally awesome way. Picture the crispness and crunch of a chip with the lightness and bite of a cracker.
There are a variety of flavors available. I personally tried the Spinach & Garlic, which had a distinct spinach flavor. And what goes better with spinach than garlic? Absolutely nothing. I'm a huge garlic fan, so I loved that the garlic shined through in the mix. I was also happy to see that these were not overly salty. It's easy for snack products to try to beef up flavor by adding entirely too much salt. But, these were very nicely balanced and were not lacking at all in the flavor department.
I'd also like to spend some time in the future experimenting with different toppings and dips. This is a great snack to eat entirely on it's own. However, I think it would be amazing with a variety of cheeses, creams and meats. I'm even considering serving these alongside my annual holiday cheese log. As I do think the texture would compliment a cream cheese base very nicely.
I mean, let's be honest, when you have friends over, you might not always get the most honest review of the snacks you provide. After all, who wants to be rude? One person I can always rely on is my daughter, who's definitely not afraid to share her opinions. Kids are honest in a way that adults rarely are. They're also difficult to please, which is why they make great go-to food critics. If they can appreciate that gluten-free GOOD THiNS, The Rice One, Veggie Blend is made with real veggies, then they really mean it.
Overall I'd say this is a winner for Nabisco. I'm looking forward to trying the whole lineup. I definitely recommend picking them up and trying them for yourself when you see them.